First Belgian trees planted – Frans Timmermans and Zuhal Demir: Circular tree planting can speed up climate action
Dutch Meer Bomen Nu campaign transplants first Belgian trees campaign in Hoeilaart
Executive Vice President of the European Commission Frans Timmermans and the Flemish minister for Nature, Zuhal Demir, transplanted the first Belgian trees with Dutch campaign Meer Bomen Nu by climate organisation Urgenda. Under supervision of the Belgian forestry department in the Zonienwoud, they dug up a young oak and wild cherry that grew in a place where they could not thrive due to lack of space. The trees were planted 300 meters down the lane in a backgarden of Hoeilaart citizens who are very happy with the trees. All present were very enthusiastic about the tree-transplanting method as it could greatly speed up tree-planting plans to combat climate change and restore biodiversity. Last winter Meer Bomen Nu replanted 250.000 young trees, shrubs and shoots in The Netherlands with an 80% success rate. This method could be copied in all Northern European countries, starting today in Belgium.
Timmermans: "Under the European Green Deal, we want to plant at least 3 billion additional trees to help restore biodiversity and cool down the surroundings in the hottest months. The 'Meer Bomen Nu' campaign has found a creative, sustainable and circular way to get more trees planted. It is a simple and straightforward way to translate climate ambition into climate action, setting an inspiring example for other organizations across Europe."
Demir: "In Flanders, we opt for better and more forest, as a buffer against climate change, as a source of biodiversity and as a place to recreate. In doing so, Flanders also supports the European Green Deal and our nature departments work towards this goal, also private and civic initiatives and companies strive to make our region greener through the Forest Alliance. The enthusiasm of MeerBomenNu is contagious. I am pleased that this project is also spreading to Flanders and that Flemish people are also being encouraged to look for places to create small woods with us and hopefully many memories later on."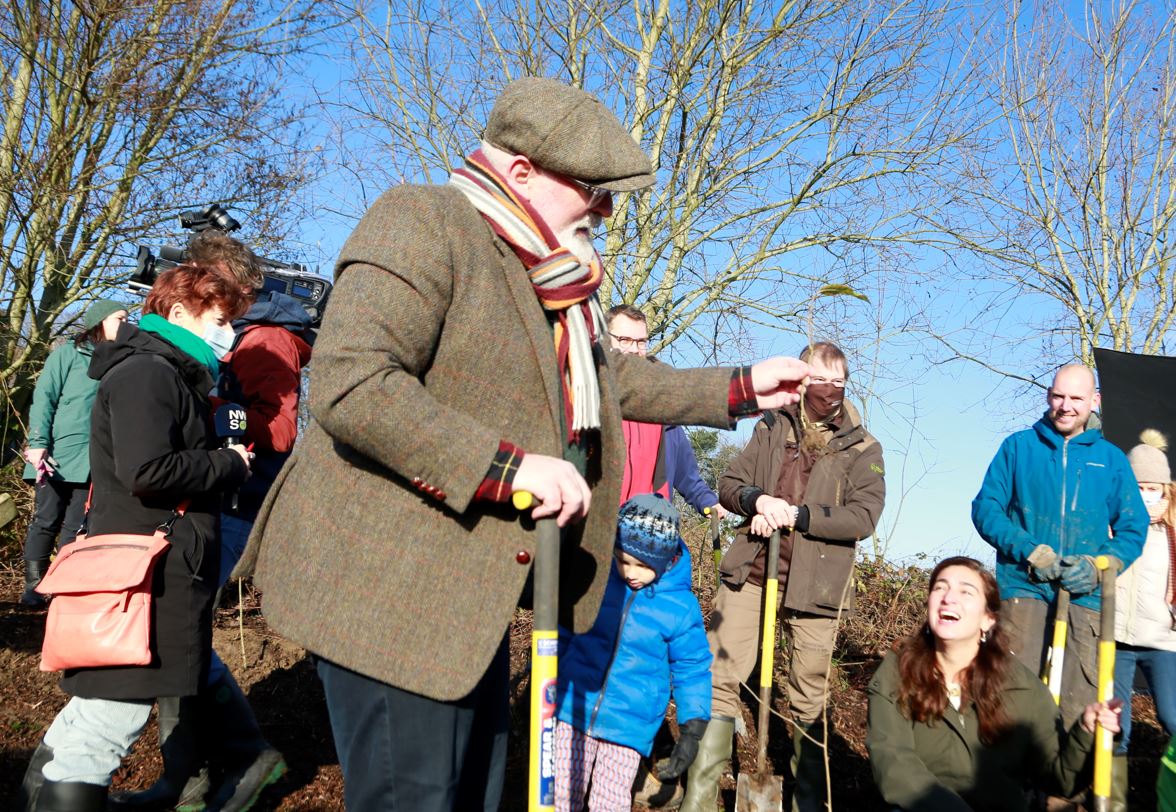 PLENTY OF TREES
The call to plant more trees to slow down climate change is huge. Tree nurseries won't be able to keep up with the demand for trees in the future. Meer Bomen Nu knows this is true for The Netherlands where the government wants to plant 37,000 hectares of trees in the next 9 years, but the UK and other European Countries face the same issues. "But if we look at nature differently, there are plenty of trees to be found!", says Hanneke van Ormondt, campaign manager of Meer Bomen Nu.
Every oak or beech tree produces hundreds or thousands of offspring each year. Only a handful will  survive to become an adult tree. Many of these saplings have a role to play in nature: they are food, are part of the ecosystem and the competition is important so the best ones survive. But in many places they are unwanted or grow in such abundance that a percentage can be taken without negative impact. The same goes for saplings of young shrubs and shoots. Every cutting from an elderberry, willow, poplar or fig can become an new tree or bush. 
By moving these young trees, shrubs and shoots to places where they are wanted, we can plant more trees in the EU, and do it affordably, quickly and sustainably. This circular method is also very social as foresters, farmers and volunteers work together to fight climate change and restore nature.
Campaign Meer Bomen Nu – More Trees Now
The Dutch campaign Meer Bomen Nu ("more trees now") collects young trees and shrubs in nature areas and parks to give them away for free to civilians and farmers who want to plant them on their land. With thousands of volunteers, we collect birches where they overgrow the heather, saplings that are too close to a path, young shrubs that need to make way for buildings, or we collect a percentage of saplings in places where they grow in abundance. We only harvest with permission of the forester or landowner. 
Last winter Meer Bomen Nu transplanted 250.000 saplings from knee- to human height and 80% survived. 2000 volunteers helped harvesting and then planting the saplings in gardens and fields of 800 civilians and farmers. This coming winter we aim for 1.000.000. Pre-orders for the million trees ran out within four days. From November until March – the planting season – we search for harvest locations, harvest trees with volunteers, move them to plant locations and tree hubs. 
Logical yet innovative
The Meer Bomen Nu method, invented by ecologist Franke van der Laan from foundation MEERGroen, is logical yet innovative. Climate organisation Urgenda, internationally known for the Climate Case, emraced it and aims to embed this circular method in all Dutch nature management in order to fulfil climate and biodiversity goals. The Caring Farmers, a growing group of farmers concerned about the environment, helped by planting 100,000 trees. This method could be adopted in many Northern European countries, where there is sufficient rainfall to support saplings in the critical first months. A newly developed online tool – the TreePlanner – enables foresters, planting locations, volunteers and tree hubs to align supply and demand of saplings locally and regionally.